Are you looking for a way to take your Xiaomi device to the next level? Custom firmware may be the answer you're looking for. In this article, we'll cover everything you need to know about Custom Firmware for Xiaomi, including what it is, how to install it, and its benefits.
Custom Firmware: What Is It?
Custom firmware is a modified version of the operating system that comes pre-installed on an electronic device. The modified software is created by independent developers and is usually based on the original software code with added or modified features. Custom firmware can enhance the user experience by offering additional features and customization options that are not available in the original firmware.
Benefits Of Custom Firmware for Xiaomi
The benefits of using custom firmware on Xiaomi phones are as follows:
More Control Over the Device
Elite provides more control over the device, allowing users to customize the phone to their liking. Users can modify the look and feel of the user interface, add new features, and even remove unwanted apps.
Elite can improve the performance of the phone by optimizing the system resources and reducing bloatware. Some Elite options also offer overclocking capabilities, which can result in faster processing speeds.
Longer Support for Older Devices
Elite can offer longer support for older devices by providing updates that are no longer offered by the manufacturer. This can be especially beneficial for users who want to extend the life of their devices.
What are the Popular Options in Custom Firmware for Xiaomi devices?
There are several popular options in Custom Firmware available for Xiaomi devices. Some of the most popular ones are: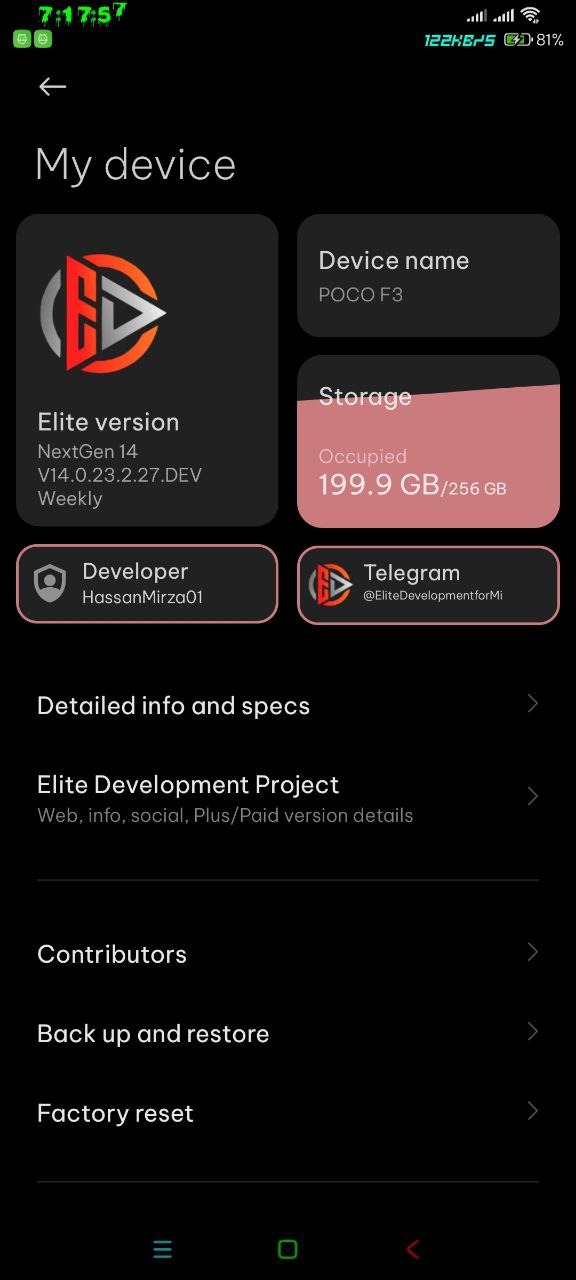 LineageOS is a popular open-source operating system based on the Android operating system. It offers several customization options, including theme support and a powerful privacy guard feature.
Pixel Experience is a custom ROM based on the Android operating system that aims to provide a stock experience with some added features. It offers a clean and simple user interface and regular updates.
MIUI is a custom firmware option developed by Xiaomi for their devices. It offers a heavily customized user interface with several additional features and apps.
How To Install Elite on Xiaomi
Installing Elite on a Xiaomi device involves the following steps:
The first step in installing Elite on a Xiaomi device is to unlock the bootloader. This can be done by following the instructions provided by Xiaomi on their website.
Installing A Custom Recovery
Once the bootloader is unlocked, users need to install a custom recovery like TWRP (Team Win Recovery Project) on their devices. Custom recovery allows users to perform advanced operations like flashing Elite and taking backups.
Downloading And Flashing Custom Firmware
After installing the custom recovery, users can download the Elite of their choice from a trusted source and flash it onto their device using the custom recovery.
Wiping The Data and Cache
After flashing the Elite, users need to wipe the data and cache from the recovery menu to prevent any conflicts between the new firmware and the old data.
Rebooting The Device
Finally, users can reboot their devices and start using the new Elite.
How To Revert to Stock Firmware
In case the user wants to revert to the stock firmware, they can follow the following steps:
Download The Stock Firmware
Users can download the stock firmware from the official Xiaomi website.
Boot Into the Fast boot Mode
Users need to boot their device into fast boot mode by pressing the power button and volume down button simultaneously.
Using the fast boot mode, users can flash the stock firmware onto their devices.
After flashing the stock firmware, users need to wipe the data and cache from the recovery menu.
Finally, users can reboot their devices and start using the stock firmware.
Tips For Using Custom Firmware
Here are some tips for using Elite on Xiaomi devices:
Users need to choose a trusted source for downloading Elite to avoid any security risks.
Keep The Firmware Updated
It is essential to keep the Elite updated to receive new features and security patches.
Users should back up their data regularly to prevent any data loss during the flashing process.
Users need to check the compatibility of the Elite with their device before flashing it.
Conclusion
Elite can offer several benefits to Xiaomi users, such as more control over the device, better performance, and longer support for older devices. We are excited to hear that you are interested in having Elite built for your Xiaomi device. As a provider of technology solutions, we are well-equipped to offer you tailor-made firmware that meets your unique needs and preferences.
Our team of experienced professionals has extensive knowledge of Xiaomi devices and their firmware. We specialize in creating Elite solutions that improve device performance, enhance user experience, and unlock hidden features.
To get started, we recommend that you reach out to us via email to discuss your specific requirements in more detail. We will assign a dedicated project manager to work with you throughout the process, from initial consultation to final delivery. During the consultation, we will gather all the necessary information about your device and your desired customizations. We will then provide you with a comprehensive proposal that outlines the scope of the project, the estimated timeline, and the associated costs.
Once we have your approval, our team will get to work on building the Elite. We use the latest tools and techniques to ensure that the firmware is stable, secure, and fully optimized for your Xiaomi device. Our goal is to deliver a solution that exceeds your expectations and meets all your requirements. We will provide ongoing support and maintenance to ensure that your Elite continues to perform at its best.
Thank you for considering our services for your custom firmware needs. We look forward to working with you and delivering a solution that enhances your Xiaomi device's performance and functionality.